I got a call from a partner of the family ranch operation that owns land all around me, and that I bought my property from. He was missing sheep, and heard I had an airplane and wondered if...... Sure, anything for my neighbors (whose hillsides I play on year round, when the grass isn't up anyway). Down the ridge line from my place about 5 miles, it took about 30 minutes of close in circling, working higher all the time until I finally eyeballed clear up to the 9,000 K ridge line and started working the backside, and there they were
I saved the lat/long took a few pictures, and texted it all to the sheep guy's kid, ain't technology wonderful? The sheep are the white blob behind the trees, right of center.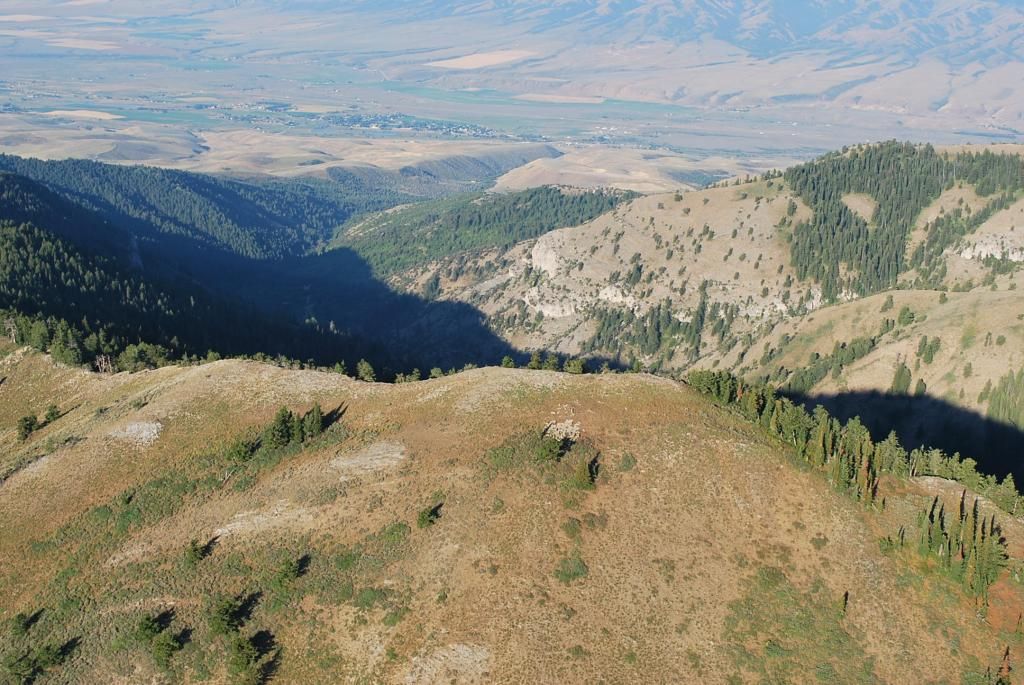 As long as I up there, I landed the 8600' ridge above my place, that I tried to the day before but got interrupted by a work call, the wind was there but less, and I gradually got a feel for the rotor or burble (I had to set up the approach on the lee side) and it was minimal and it was nice having a headwind for the landing.
Hold on a second..... there was a knock at the door just now, as i was typing this, back now. The sheepman, and his son and grandkid were at my door. Since the air was still good, and they were still a little confused as to how to get to where the sheep are, I put the passenger seat in and his son (200 lbs.) and I flew the route, this time with how to get to it on horseback. He had never been in an airplane of any kind, and he got an accelerated course in mountain flying and best of all didn't puke. Mission accomplished and safely back on the ground, the old man then tells me that is 50 K of livestock up there, and insisted I take a few bucks for expenses, being experimental I can't make money, but I can accept some to defray actual expenses, and after hearing that 50K figure, did so
Being a good neighbor screwed up my morning however, I had planned to fly up to the Montana/Idaho border and make some mountain ridge landings, but too late now, damn the luck.